Webarena eCommerce Web Design & Development Perth

Do Business Online Easily and Cost Effectively

The Webarena eCommerce website system integrates perfectly with any of the Webarena eCommerce Website design & development Packages, which is a user-friendly system that allows your website visitors to see the range of products you have available, add items to their shopping cart, then pay securely on your site.

For you, it offers a complete solution for eCommerce website design in Perth for managing your online sales, with inventory control, payment management (including shipping and tax) and invoicing. For a complete list of the many features please take a look below.

Shop with Confidence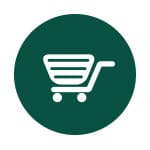 The Internet has changed the way people shop. Online shopping exposes your products and services to a vast number of prospective customers who otherwise would probably not have contact with your business.

Online shopping is safe and secure and rapidly becoming the norm for conducting business in the 21st century.

With over 200 customers already using the Webarena eCommerce website system to manage their online channel, why not arrange an  appointment  to see how easy it is to start an online business of your own!
Stop waiting anymore! Reach us for a quick consultation for eCommerce web development solutions; we are happy to respond as quickly as possible!
eCommerce Web Design Feature
Create/ manage products
Create/ manage categories
Customer management
Automatic customer sign-ups online
Automatic invoicing
Online reports
Secure shopping (SSL Enabled)
Flexible product modifiers (colour, size etc)
Automatic emails
Custom layouts
Multi-tiered pricing options
Complete site integration
Completely browser based
Multiple Log-ins with permissions
Inventory Control
Low stock notices
Coupon system
Volume discounting
Supports payment gateways
Allows for offline payment
Multiple shipping options
Easy to use interface
Ability to optimise for SEO
Print orders
Attach files to products
attach documents eg MSDS
Flexible tax rates
Sell physical and digital products
Mass product modifications
Real-time reporting
Multiple product images
Organise by labels and categories
Search for products
Discount Management
Products in multiple categories
Online order statistics
embed extra product information and videos
Manages your workflow for new orders