Custom Website Design & Development
Living Website - The Last Website You May Ever Need!

At Webarena, we provide our customers with scalable, living, evolving custom websites. Our custom website design services allow you to choose exactly how you'd like your website to look and operate. We add top level content to the website, supplied by you or from your old website. We have a range of potential features, allowing your website to have as much or as little functionality as you'd like. All new websites are developed integrating with our Content Management System, giving you the ability to edit content, add/remove website pages, and allowing us to add functionality to your website as the online marketplace evolves.

 
---
Living Website Design
A website without a Content Management System (CMS) is not taking advantage of the full potential of the modern Internet.
A CMS is a cool internet technology that allows you to edit and update your own website simply by logging in to our online editing program. All Webarena custom websites come with a powerful but simple to use CMS, so you can save time and money and retain control over your own website content. You don't have to wait or pay for us to make changes for you. ( Though that is an option if you want )  
Unique custom design
Highly safe and secure
Online Shopping Modules
Fully mobile phone and tablet friendly (Responsive)
You can personally update and change website content
Future-proof, we constantly update our background software
---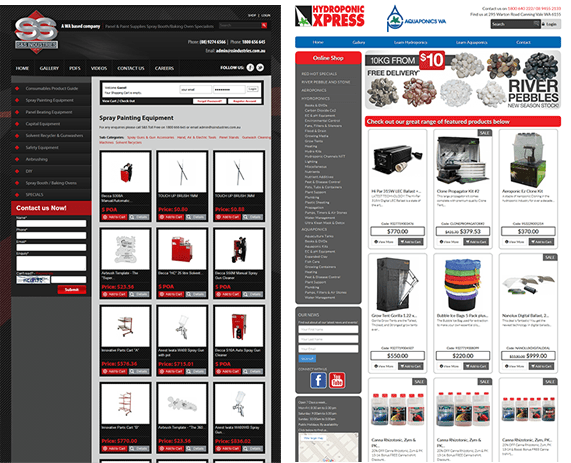 Online Shopping

The internet has changed the way people shop. Online shopping exposes your products and services to a vast number of prospective customers who you would otherwise have little or no contact with. Online Shopping is safe and secure, rapidly becoming the norm for conducting business in the 21st century.

The Webarena E-Commerce System integrates perfectly with all Webarena websites. It's a user-friendly system which allows your website visitors to see your product range, add items to their cart, and check out securely.

For you, it offers the complete solution for managing your online sales, with inventory control, payment management (including shipping and tax) and invoicing. You can choose to manage inventory and also synchronise with your current POS or ERP system provided we can obtain the data from the system you are using.
---
Custom Website Design Key Features
Create / Manage Products
Create / Manage Categories
Customer Management
Multi-tiered Pricing Options
Automatic Customer Sign Ups
Automatic Invoicing
Online Reports
Secure Shopping
Flexible Product Modifiers
Automatic Emails
Custom Layout and Design
Inventory Control
Coupon System
Volume Discounting
Multiple Shipping & Tax Options
Real-time Reporting
Organise by Labels and Categories
SEO Optimisation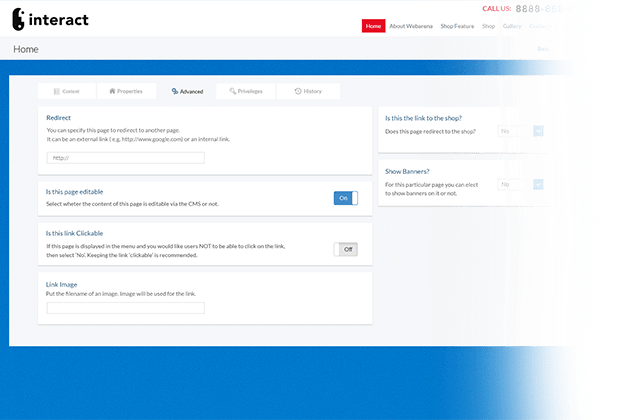 ---
Online Shopping Modules
 
E-Commerce

Display goods and services online so customers can purchase from you directly, 24 / 7 / 365. 
 
Product Catalogue

This is similar to our E-Commerce Module in that it allows you to display your products categorically on your website. Add, remove and describe your products the way you want as you actively change and update product information via our content management system. Customers will not be able to make a direct purchase, however they have the ability to make an enquiry regarding any of your specific products.
 
Credit Card Gateway / Paypal Integration

Eliminate your need to invoice and process transactions manually. The Credit Card Gateway upgrades your E-Commerce checkout to transact credit cards in real time via a live gateway service. Customers can now pay at the point of purchase, with you receiving payments instantly.
---
Drive more customer traffic to your website!

Opening the yellow pages to search for a business is a thing of the past. These days, it's vital that your customers can find you online, generally through Google. Unfortunately, it is not as simple as it may seem to rank highly. Google looks at a huge amount of different variables in determining which websites to rank well, and which to rank poorly. It is also a company that itself is developing and changing incredibly quickly, regularly updating their search algarythm. It's because of this that it's vital to have professionals manage the SEO of your website. At Webarena, we are always on top of the newest industry trends, and innovative practices to best appeal to Google, and keep your website ranking high by providing top-notch custom web design & SEO services. Small businesses have two main options when generating visitors to their website. Organic, those that occur naturally through search engines and Paid; those that arrive from Google Adwords and Pay Per Click advertising.
 
Organic - Search Engine Optimisation

Organically generating traffic to your website is by far the best long term marketing solution for any business looking to expand and grow online. While this takes a lot of hard work, expertise and knowledge about Google to achieve, the benefits can be exponential and extend far into the future. Along with custom web design services, at Webarena, we offer a number of SEO solutions, each tailored to fit the unique needs of individual businesses, and to best appeal to the relevant marketplace. We don't throw you in the deep end, but analyse the marketplace and consult with you regularly to recommend our opinion of the best overall strategy, and specific keywords to target. Our service is entirely scalable, with the number of keywords and type of campaign (local, regional or national) chosen by you. The Webarena SEO is an ongoing service with the aim of moving your website up the Google rankings, and keeping it up there over an extended period of time. This service will not generate business overnight, but it is an incredibly profitable long term marketing initiative.
 
Paid - Search Engine Marketing (SEM)

While organic traffic is a more profitable option in the long term, and often a great solution in tandem with a Search Engine Marketing campaign, it may take months for you to start seeing traffic and conversions. If your business needs traffic now, then a Webarena managed Adwords campaign is the right choice for you. The Webarena Search Marketing team is experienced in keyword selection, split testing ad copy and landing page optimisation. We are ready to start delivering visitors and conversions to your website within days, not months. If you want to start seeing new visitors to your website and don't want the risk managing the campaign on your own, speak with a Webarena SEM consultant today.
---